Had to share this, especially with my southern friends. Typically I tell you you're wrong about Ontario weather, at least southern Ontario, where it really isn't so bad. But today you're right! The weather here has been insane. Over the weekend it was gorgeous, and from what I understand, warmer here than it was in NC.
Last night it poured rain. I took a picture to capture the flood in our street. I have video that does it better justice (car driving through to demonstrate the height of the water), but this gives you some idea: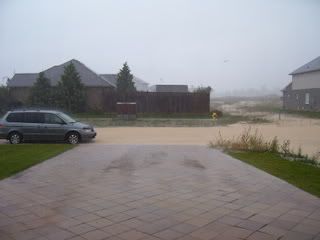 But now....now it's SNOWING outside my window. It's dying down now, which is good, since I have to drive into London in a few minutes. But it was coming down hard for about 15 minutes. In case you don't believe me, here is what it looked like outside 10 minutes ago:
And now....the sky is blue and there are no clouds. Go figure!