I've been intending to post several times over the last few weeks, but things have been busy (mostly in a good way--I've worked a few afternoon supply jobs, so I haven't been home as much). Still feeling disgruntled overall with the state of Ontario education, and looking into other life paths, but it does make me grateful to work in a school with a flexible curriculum and high standards for students. It's a bit tough some days to not roll your eyes at some of the idealistic notions we're striving for at Nancy Campbell, but it really does work most of the time!
OK, so to the main subject of the post....I got some lovely new yarn last week. My big KnitPicks order arrived, and although most of it got shipped to some lovely ladies in the UK, I got to keep this: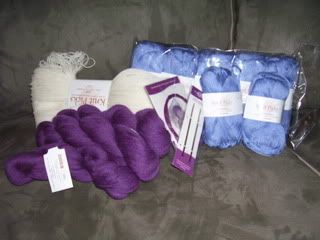 It is all as luscious as it looks, too! The lovely periwinkle shade is for my
Ivy
, which I cast on over the weekend. I've only got a teeny tiny bit of the back done so far, but I'm enjoying it and looking forward to the finished product, which is probably still a month away at least!
I also had to try to make a little room in the stash bin, so I decided I would make a felted bag for our school's silent auction next week. I was told by multiple people last week that I should think about trying to sell my bags, so this seemed like a good place to start. I know I won't ever be able to make a living selling knit handbags, but it might be a fun way to earn a few extra $s doing something I enjoy. So this is what I came up with--the pattern has no name yet (I made it up as I went along, basically), but I'm open to ideas:
I'm sure I should have more to report than that, but my world is pretty much knitting, watching basketball, cooking, and teaching (not necessarily in that order!). Now I really need to go finish Stephen's socks. Sometime this week..... :-)