I hate getting too confident in my optimism, last time I was feeling that good things briefly came crashing back down, so I'm trying to avoid that fate again. But this week seems to be going well!
Last week things at work looked a little topsy-turvy, but they seem to have righted themselves again. And I finally finished Stephen's socks! (after learning a valuable lesson in patience--I thought the 2nd sock was big enough to start the toe decreases, did them, and then realized it wasn't long enough, so had to undo them and do it again. If I had just been willing to knit another few rounds, I would have saved myself a lot of extra work!)
I figure I need one small project on the go as well as my Ivy, so after I finished his socks I cast on some leftover sock yarn for a baby hat for charity. I used the pattern for the Butterfly Hat, with some minor adjustments (I didn't have much yarn, so I made it a little smaller!):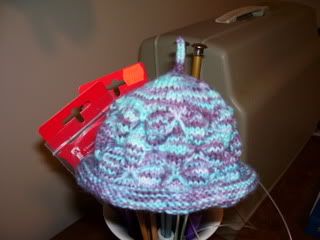 I've got a nice little collection of charity knits ready to mail in someday soon. It really is a great way to use up leftover yarn, and also feel like I'm giving back a little.
And my really nice surprise today was getting a parcel from my AY Secret Springtime Santa:
Lots of great goodies, including some Twilley's Freedom Spirit in Sunset, and some Natural Dye Studios Alpaca/Merino in Supernova. I think the Freedom Spirit is destined to become something very soon, but I'm still looking for the perfect project! I need to cast on another little project ASAP, though...if not the Freedom Spirit, then probably some socks. I'll keep you posted!