I finished my
Forest Canopy
shawl! Yay! Here it is pinned out for blocking:
And modelled with matching dress (it's hard to get good pictures of yourself...but I'm moderately happy with this!):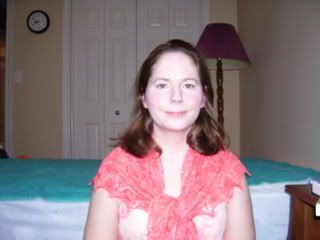 The pattern was great to follow, and I'll almost certainly do another one someday...but my next lace project will be the
Swallowtail shawl
. I plan on doing that once I finish my Ivy--I think it uses the same needles, and I'm resisting the temptation to switch straight to it! I have the yarn already, though....
Knitpicks Shadow
in Grape Jelly. Of course, the other thing holding me back is that the yarn needs to be wound, and the
swift
I ordered on eBay hasn't come yet. Argh. I could put the yarn over the chair legs and wind from there, but since I KNOW I have a swift on its way...well, I want to wait! I have emailed the seller to make sure if shipped on time...it's probably just CanadaPost being their notoriously slow selves again.
So that leaves my Ivy as my current WIP, and it definitely needs some attention as it's going slowly right now. But I might cast on for some socks or something small soon, too. After all, we'll be travelling next week (Mississauga, Barrie, and Orillia...ooh-ee!) and I will want something pretty portable to take with me. I'm thinking
Cairi's Sweetheart socks
in my February sock club yarn. Although my list of bookmarked sock patterns is huge (see that list on the left? Am I right that about 50% of them are socks? Not all say it in the name, but I think I count 17 sock patterns out of 34 total patterns!)....but since the February colour is a lovely blend of pinks called "Kiss Me," these seem the most appropriate. :-)
Now, basketball will be starting soon, and I have a few chores to take care of. (although if today's games are as predictable and boring as the daytime ones were yesterday....I'd almost rather do chores than watch! The evening session was better--go VCU Rams!--but I was disappointed with how little of the UNC game I was able to see, the networks only showed it for the few minutes in the second half when it was close.) So I probably won't be posting again until after our little trip.