OK, I've actually been home for almost a week now, but even after that long I still feel guilty sitting here blogging....there's so much else I need to do! But here I am anyway, trying to at least give a quick update to everyone.
So....our trip was nice and relaxing for the most part. Stephen had a conference in Missisauga, and I got to catch up with Paula for a morning while he was in meetings, which was nice. Then we had 4 nights in Barrie, largely being wined and dined by the local physician recruiter. I really liked a lot of what we saw there....it's a beautiful area, with so much to do--there are both hills and water. I really miss hills here in the flatlands of Southwestern Ontario, so that was nice to see them again! Of course, I also still miss the ocean, and they don't have that in Barrie. It's a nice-sized city and I like the idea of being close-ish to Toronto but not right in the city. Plus, I think Stephen likes the direction they're taking with their new palliative care plans, so it might be a good match for him professionally. But we're a long ways from making any permanent decisions, and I'm still trying to stick up for the "we should move back to North Carolina" lobby.
On the crafty front, I taught myself to crochet while sitting in the hotel in Mississauga. I made a whole bunch of granny squares out of scrap yarn, and I decided to use them to finish off the blanket my students made, since most of them are bored with making squares now and are ready to try new things. So the blanket is done--it's not perfect, but it is soft and warm and was made with lots of love, so I hope some little baby appreciates it: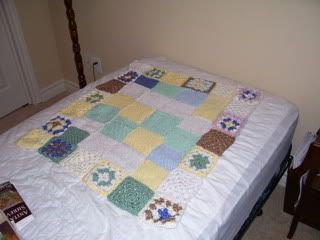 And a close-up of some of my granny squares:
As far as my own personal projects go, they did get sidelined a little, but I'm back at it now....I'm almost done the left front of my Ivy & will post pictures of it when I am. I've also cast on Cairi's Sweetheart Socks and am most of the way down the cuff of the first one. I am adapting the pattern a little--I'm trying Magic Loop for the first time (and I love it! No extra needles dangling anywhere!) and I think I'm going to try to use the short row heels and toes I learned when making Diane's Cafe Curtains socks, because I liked them so much. But we'll see how that goes when I get there!
And I'm also spending way too much time pondering my future career plans. I may in the upcoming weeks do some posts on here asking for feedback about this issue--so please be prepared to comment and help me figure my life out. :-) I will probably stay in teaching for another year, until Stephen finishes residency, but at that point I may be ready for something new. I'm trying right now to consider all of my options, so right now I'm in the brainstorming phase....possibilities I'm thinking of include
librarian/archivist, dietician, education policy, working with university students (in a student services/counselling capacity), opening a yarn shop/cafe, personal chef, accountant/actuary, urban planner, lawyer, radio news production/broadcasting, occupational therapist, event planning, publishing/editing
. Ahem. I think that's it--for now. So you can see why this is a problem....I think I have too many interests. :-) If anyone knows of any job that combines some or all of the above, please let me know. And I'll keep you posted as I narrow down (or expand) the options from here!