Advance warning....this post is mostly knitting and basketball. Sorry, Paula!
Well, so far the break is off to a good start. First, before the break began I collected some more work from my knitting club kids. We were just a little short of the number of squares I wanted to finish a nice-sized baby blanket, so I think I'll wait until after the break and see if I get a few more. But we're almost there: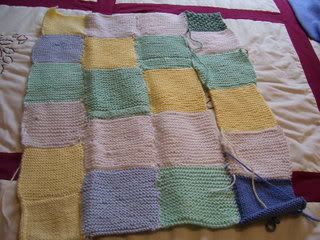 One of the kids decided to make a scarf instead of squares. Mostly, I'm pleased with his initiative, although the result is that our blanket is rather short on green and blue squares, since he used a lot of it for the scarf!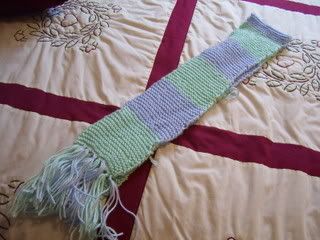 And then there's my own work. I finished the 2nd Cafe Curtains sock: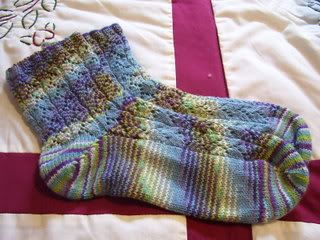 I had some trouble with the colours pooling in the 2nd sock, and so broke off and started knitting from the other end of the ball. They don't really match at all in the patterning of the colours, but that's part of that delightful handknit look, right?
I've made lots of progress on my Forest Canopy, and hope to finish it very soon. I'm also back at work on my Ivy--I decided that the monstrously long ties in k1, p1 rib were a great basketball-viewing project. Got about 2 feet done during yesterday's ACC championship. (Go Heels! Although a wee little part of me was rooting for the Cinderella story win for NCSU....but I do love that Roy's boys clinched the 1 seed!)
It looks like my grade 6 ESL classes will only be 2-3 days a week for about a month, but that's still a decent amount of regular extra income. And it leaves me a few days a week to supply teach if I want. I realized last week that I've been hanging up on calls from the supply teacher system--it's automated, and takes a few seconds to connect after you answer. I tend to assume it's a telemarketer and just hang up. But after getting a call at 6 am, when I was too sleepy to hang up fast, I realized that I've probably missed quite a few calls in the last few weeks. Oops!
Now I need to go fill in my brackets...I think I'll go with past experience and pick 2 different versions. I like to do one where my Heels win it all, of course. But then I also like to do one where things don't go the way I want--that way, if the teams I like lose, I can at least say "hey, my bracket's doing well!" :-) Anybody have a good recommendation for this year's George Mason? Perhaps Winthrop or VCU? Oh, and anybody else really annoyed at Stanford getting in with only 18 wins, while dozens of 20+ win schools were shut out? Oh well....