My Ivy, that is. I finished the actual knitting Monday, and spent the last 2 nights sewing it up. I was trying to be very patient and careful about the sewing up, but a few seams still look a little sloppy to me. I hadn't really done much mattress stitch before, so I'm much better at it, but found it tricky in the bits where there was shaping to the garment. Sewing 2 totally straight edges together is one thing, but when one or both of the edges have some curve/shape to them, it was a bit harder.
But before I bore you with all the knitty gritty details, here's a picture to prove I finished: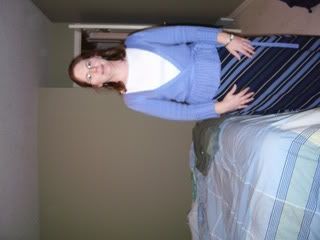 And yes, I did wear it to work today with that skirt! A couple of my students remembered seeing me work on part of it in class, so they asked about it and complimented me. No one else said anything, so I'm choosing to take that as a compliment--that it looked nice enough that they assumed it was store-bought, and therefore not worthy of a comment. Does that make sense?
As far as the fit goes, it's not 100% perfect, but just like the seaming, I'm treating it as a learning experience. I think part of the problem may have come from the fact that I used a cotton yarn, so it may not have blocked/stretched quite the same way as a wool yarn would have. I did get the correct tension, and tried hard to knit to the precise sizes. I think the other thing is just the fact that pattern sizes are based on bust size, not the size of the rest of you, makes it hard to pick the right size. I knit the size small based on the measurements listed in the pattern, but maybe I should have made a medium (I have some tops that are size small, but usually I am a medium). The sweater is just a tad tight through the shoulders/arms, and it could be a bit longer. I took this close-up of the shoulder, but I'm not sure you can really tell it's tight:
On the positive side, I LOVE this yarn (KnitPicks Shine Sport)! It's so soft, and I like the colour a lot, and I love that the cables show up really clearly: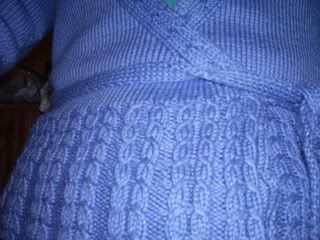 Plus, it's machine washable (yes, it's a cardi, and yes I wear it over things--but I'm sorry, as a teacher, I tend to come home dirty frequently--marker, chalk, pen marks, general kid grime, you name it--I need to be able to throw things into the machine!), and supposedly because of the modal it will wear quite well. Also, the pattern was very well written--I was a bit intimidated by this project at first (first adult sweater, the pattern was about 6 pages long, etc.), but if you actually read the pattern and follow it, it does work! :-) Plus, even thought I bought less yarn than the pattern called for, I still have some left over--I'm trying to squeeze a baby cardi out of it, we'll see if I can do it.
So some more pictures, just because. Here it is without the flash (true colour is probably actually closer to the pics with flash, oddly enough), nicely behaving itself on a hanger:
And for what it's worth, the back view:
So that's an awful lot of writing about one little sweater. :-) I'll post separately a bit later about some not-knitting stuff--although the Ivy has kept me busy, it hasn't quite been my whole life!