I did OK on my productive day off. Good practice, because I think we have 3 more such days in May (well, one is the May long weekend, so everyone has that off....and we're travelling back from NC then). Plus it will be summer soon (yay!!), and I'll have those long days to fill. People always tell me that they think they would get bored if they had 2 months off every year, or they have to plan big trips and things to fill their summers....it's never been a problem for me. There are so many books to read, projects to knit, meals to cook, flowers to plant....really, I find a lot of the domestic arts to be an enjoyable way to pass the time (not cleaning, sadly, I really should do better in that arena!). I'm sure I should find teaching teenagers to be more fulfilling than knitting a shawl, but....
Anyway, since that day off, I have finished a bunch of projects, so here are some pictures:
There's 2-in-1 there....the felted Baby Bear and some booties I made for a baby shower on the weekend. The bear is a FibreTrends pattern I got in high school, done in some leftover grey yarn I've had for ages, and some Lion Brand "Wool for Felting" in pink. The booties are a variation on
this pattern
for Cabled Circular Seamless Booties, but with a shorter cuff, and short row toes and heels, and the sole is worked in stockinette instead of garter st. (I'm not sure how many changes you have to make to a pattern before it becomes "yours" rather than just an adaptation!) Here's a close-up of the booties so you can see the cables: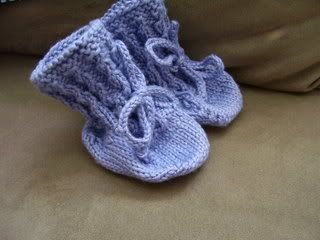 And here are the Sweetheart Socks, finally finished! :-)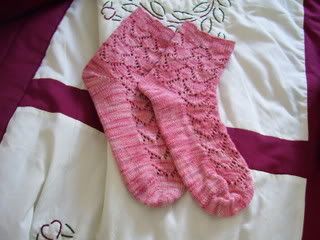 I really did enjoy the pattern, it was very well written. They're in February's Posh sock club yarn, which seemed like the perfect choice for this heart pattern. I did change the pattern to do them using Magic Loop, and short row toes and heels. (what can I say? I'm a convert!)
So, what's next? Well, I wanted something fairly simple and quick to finish, so I cast on the Twilley's Freedom Spirit that I got from my Spring Secret Santa to make a beret. (I got the Freedom Spirit pattern book recently, and after much debating between the beret, the multi-directional scarf, and a few of the other smaller patterns, I decided this was the winner.) It's worked from the bottom band of the hat upwards, and is actually quite simple. I'm part-way through the decreases for the top shaping now, and it looks like this: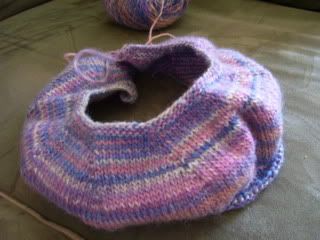 I'm also hoping to cast on my Swallowtail Shawl. I think this is going to be a long-term project, because it's clearly not a simple pattern--no lace should be knitted while distracted, but this pattern looks like a big step up from my first lace, the Forest Canopy.
And if CanadaPost & the customs office get their acts together, soon I will have my Cotton Fleece yarn to start my ZephyrStyle tops. Plus, it's less than 2 weeks until I go to NC to pick up my KnitPicks order (and go to Eric and Lauren's wedding, of course!)! So I'll be swimming in yarn very soon here....to the point where it's hard to know what to do next. Oh well, that's not such a terrible problem, is it? :-)